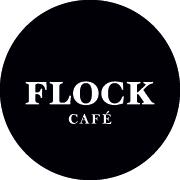 Flock Café in Singapore had their branding completed by Kilo.
"The idea of 'Coming together' was used in the identity where various patterns representing different parts of the café are assembled in seemingly unlimited combinations."
"This allowed us to extend the concept to other livery like badges, the hand screened aprons and cup sleeves. Most notable would be the namecards, where the back of the namecards consisted of 3 different designs that formed a larger pattern."
– from Kilo's case study.