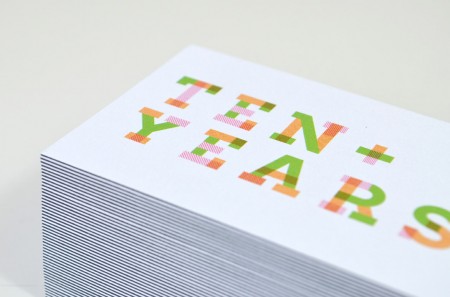 We've used Moo.com a few time in the past, so when they recently invited us to try out their new Luxe range of business cards and postcards, we thought it would be great to find what their new premium products were like.
We're glad to say that they don't disappoint, and everything from the packaging to final prints are top quality.
Before you even get to the prints, the actual boxes are very solid and coated in a beautiful crisp white textured paper, all wrapped up in a ribbon to give that complete luxury feel.
Upon opening, the cards which are presented very well within the boxes continue the high quality standard. They are very substantial, being made from four layers of paper, weighing in at an impressive 600gsm. The middle layers are a different colour stock to give the cards a stylish side profile, and really help make them stand out from the crowd.
As our parent company Fridge Creative is currently celebrating it's 10 year anniversary, we though it would be a good use of the service to get a range of prints done for this.
As a picture is worth a thousand words, we've included a few images below which show the final products (photos can be clicked to view higher resolution).
The business cards…
And the postcards…