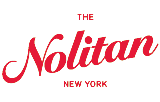 Loving the branding materials for this New York hotel called The Nolitan.
It was designed by Marque, and the full details can be seen here.
The name is a shortened form of 'North of Little Italy', and the brand celebrates the diversity of the neighborhood and the local niche businesses that make Nolitan's unique, encouraging guests to become a Nolitan too.