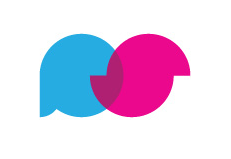 Alan van Roemburg created this logo for  ParkSlide.
The company: ParkSlide connects people via a web-delivered video conferencing system.
The concept: The two intersecting discs are a typographic abstraction of the letters P & S, whilst at the same time the silhouettes create the shape of two people / faces connecting.
You can view the project here.